TRENDnet's 2-Bay NAS Media Server Enclosure, model TN-200, is the entertainment and storage hub of a digital network. DLNA® certified Smart TVs, media players, and game consoles can automatically find and play multiple HD videos and music simultaneously. An iTunes® server provides the ability to share a massive iTunes library across your network.
The TN-200 accepts two 3.5" SATA I/II hard drives (sold separately) for a total storage capacity of up to 8 Terabytes. Additional storage can be added using the convenient USB share port. A Gigabit Ethernet port maintains a high speed connection to the network. An intuitive setup wizards get the TN-200 up and running quickly. Consume and manage your digital content from anywhere with TRENDnet's TN-200.
DLNA Certified
DLNA® technology seamlessly brings your HD movies and music to your Smart TVs, media players, and game consoles. Use a DLNA® app on your tablet or smart phone to stream movies and music. The TN-200 supports simultaneous HD streams to different devices.
Remote Access
Safely share content over the internet using the FTP server or create login profiles with restricted remote access. Supported Dynamic DNS service providers include dyndns.com, freedns.afraid.org, zoneedit.com, and no-ip.com.
Advanced Management
Quickly create restricted users access profiles. Set your hard drives to JBOD (combines drives to appear as one large hard drive), RAID 0 (increases drive performance), or RAID 1 (zero loss architecture mirrors all data from drive 1 to drive 2). Perform a S.M.A.R.T. test (Self-Monitoring, Analysis, and Reporting Technology) to verify hard drive performance and health attributes. The Scan Disk feature scans for data errors. Setup SMS notifications when downloads are complete or key settings are changed.
Backup Center
The Backup Center provides easy local, remote, and cloud backup options to safeguard your valuable content. Program backup to a local NAS device, using Apple™ Time Machine, or to a connected USB storage device. Setup remote backup to a remote NAS, remote server, or the Amazon S3 cloud service.
Download Center
Program scheduled downloads from a website, BitTorrent, or an FTP site. Monitor downloads in real time and setup SMS download alerts.
Energy Savings
Program the device to hibernate when idle. Create a weekly schedule to automatically turn off the TN-200 for specific times such as when at work or asleep.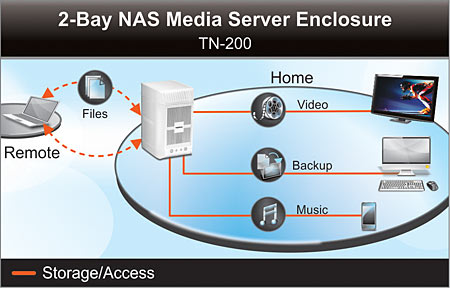 ⚫ DLNA® certified media server seamlessly streams HD videos to a smart TV, tablets, and mobile devices
⚫ ITunes® media server
⚫ Gigabit Ethernet port: share documents, videos, and more at Gigabit speeds
⚫ 1 x USB share port
⚫ 2 Serial ATA I/II 3.5" hard drives (up to 4 TB each) of your choice (hard drives not included)
⚫ Quickly expand your storage or download media with the external USB port
⚫ Remote access:
Advanced Management: Control content and user access with the feature rich management interface
Share content using the FTP server or create login profiles with restricted remote access
Manage quotas for up to 256 user accounts and 32 groups
Manage users in groups with user quota and group quota limitations
Schedule data backups via FTP and HTTP servers without turning on your PC
Ensure complete mirrored backup with RAID 1
Improve performance with RAID 0 technology
JBOD make two hard drives act as one
USB one-click backup to copy USB contents to hard drive
Perform a S.M.A.R.T. test (Self-Monitoring, Analysis, and Reporting Technology) to verify hard drive performance and health attributes
Scan Disk feature scans for data errors
Setup SMS notifications when downloads are complete or key settings are changed
⚫ Download Center:
Program scheduled downloads from a website, BitTorrent, or an FTP site
Monitor downloads in real time
Setup SMS download alerts
⚫ Backup Center:
Program backup to a local NAS device
Compatible with Apple™ Time Machine
Setup USB storage device backup
Remote backup to a remote NAS, remote server, or the Amazon S3 cloud service
Supports file-level backup, speed up the file transfer by transferring only the difference between remote and local files
⚫ Energy saving controls:
Smart FAN technology reduces fan usage with lower temperatures
Program the device to hibernate when idle
Create a weekly schedule to automatically power on/off the TN-200
⚫ Receive notification via email for critical errors and full hard drives
⚫ Dynamic DNS support for: dyndns.com, freedns.afraid.org, zoneedit.com, and no-ip.com
⚫ Mac friendly with AFP, Time Machine, and Safari support
⚫ Intuitive installation with Plug and Play support